Tux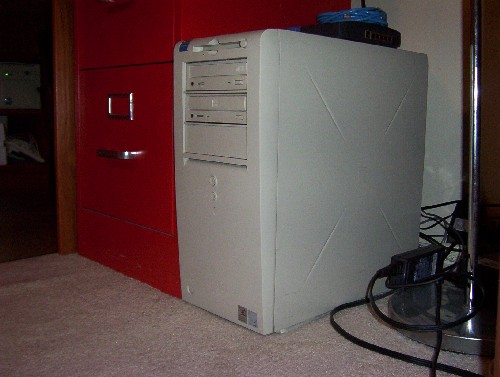 The pride of SkilmNET was the Linux server, tux. It was a wonderful machine that provided most of SkilmNET's network services that were visible from the outside world. It's also the machine that I learned server management with. Check out the list of stats:
SkilmNET Linux Server
CPU
400 MHz PII (792.98 bogomips)
RAM
224 MB
Storage
4 IDE HDDs (4.3GB, 12.6GB, 40GB, and 500MB) and a 4x CD-RW drive
Network Connection
Integrated 3COM 905B 10/100 Ethernet
OS
Red Hat Linux 9.0
Kernel
2.4.20-20.9
Services
telnet (telnetd) - Remote Access/Control
ssh (OpenSSH) - Remote Access/Control (encrypted)
ftpd (wu-ftpd) - FTP Fileserver
httpd (Apache) - Webserver
smtpd (sendmail) - E-Mail Server
pop3 (qpopper) - Remote E-Mail Retrieval
imapd (UW IMAPD) - Remote E-Mail Retrieval
dns server (BIND) - Name resolution (internal)
mysqld - MySQL Database Server
smb fileserver (Samba)
nfs fileserver (nfsd)
streaming mp3 (Shoutcast)
Simple Network Management Protocol (ucd-snmpd)
SkilmNET Main Server History
(at least what I remember)
Dec., 2000 - Brought the SkilmNET Linux Server Online (a 133MHz AMD with 24MB of RAM and 4.3 and 1GB IDE HDDs) running RedHat 6.2 (Kernel 2.2.14)
Mar., 2001 - Installed RedHat 7.0 (Kernel 2.2.16)
Sept. 1, 2001 - Installed RedHat 7.1 (Kernel 2.4.2)
Oct. 21, 2001 - Re-Installed RedHat 7.1 (I screwed up the /var/spool directory during a backup mishap - don't ask). Installed new kernel (2.4.9). Various security/convenience updates.
Oct. 31, 2001 - I had planned to use Halloween night to upgrade the server to RedHat 7.2 (Kernel 2.4.7), but I had an un-expected side issue. My 1GB Swap/Extra Hard Drive died that very night, so I had to replace it with a tiny little 500 MB HDD. I ended up doing a lot more installing than I planned.
Nov. 1, 2001 - Finished installing/configuring programs from the install of RedHat 7.2. Upgraded Kernel to 2.4.9-7. Upgraded qpopper to 4.0.3. Various security updates.
Nov. 7, 2001 - Upgraded Kernel to 2.4.9-13. Various security updates.
Nov. 27, 2001 - Various security updates.
Dec. 1, 2001 - Upgraded Pine (mail reader) to version 4.43. Upgraded Webmin (www-based admin server) to version 0.91.
Dec. 5, 2001 - Upgraded Apache httpd (webserver) to version 1.3.22. Upgraded SSH (Secure Shell Client/Server) to version 3.0.2.
Dec. 12, 2001 - Various security updates.
Dec. 19, 2001 - Compiled and Installed Kernel 2.4.16. Testing the new kernel off and on, using 2.4.9-13 as a backup. This is my first sucessful kernel compile (all the other upgrades have been security updates from RedHat and therefore RPMS), so I'm a little nervous as to whether everything works.
Dec. 22, 2001 - The last few days, tux has been crashing for no reason, and very randomly. I have had one crash before, and at least after I rebooted, I found that the Kernel had panic'd and left a note in the log about what happened. This time it seems to crash at least once a day with no kernel messages. The machine has also been making weird fan-related noises, but it's been doing that all it's life. I noticed that it only shows 14MB of RAM when I know for a fact that there are 24MB in there, so I'm thinking that some major piece of hardware is getting flaky. Anyhow, since I have been wanting to get a faster machine to be the server anyhow, I have ordered one from e-Bay. Hopefully I'll have it up and running within a week or so. I'll put new stats up once that happens.
Jan. 4, 2002 - The new tux arrived! I installed, configured and updated the new server. Let me tell you, this tux is a vast improvement over the old tux. Kernel compilation is much faster, it's easier to maintain, and it runs cooler. I'm in the process of doing all my updates, and it appears that everything is working perfectly.
Jan. 9, 2002 - Various software updates.
Jan. 16, 2002 - Upgraded Pine (mail reader) to version 4.44. Various other updates.
Jan. 18, 2002 - Installed new Webmail program (NOCC) which allows SkilmNET users to send and receive e-mail in a friendly, Web-based environment.
Jan. 19, 2002 - Installed the Berkeley Internet Name Daemon (BIND 9.1.3), so that tux can serve as a backup DNS server for internal DNS requests. Various security updates.
Jan. 22, 2002 - Installed new Webmin (0.92).
Jan. 26, 2002 - After going to a computer show and buying more RAM, I did some switching to maximize the RAM I have. I put an extra 128MB DIMM in tux as a result bringing tux to 224MB RAM.
Feb. 27, 2002 - Installed new Kernel (2.4.9-31) as an update RPM from RedHat.
Mar. 11, 2002 - One of the RedHat updates was flawed and screwed up my webserver. I re-installed the system. While moving over backed up files, accidentally deleted the wrong file but I was very proud when I was able to determine the exact location on the hard disk from which something was deleted, and do a raw-write of that section of the disk to a new file. In short, I RESTORED A DELETED FILE!! Go me!!
Mar. 14, 2002 - Various software updates. After the re-install, I slowly re-did updates being careful not to install anymore flawed ones. RedHat corrected the update that brought down my webserver - a faulty perl upgrade that lacked mod-perl.
Mar. 20, 2002 - Installed both UCD-SNMP and MRTG. These programs allow me to view network traffic and other measurements such as CPU and Memory usage remotely.
Apr. 18, 2002 - Reconfigured the DNS server to resolve DNS TLDs that are part of OpenNIC.
May 12, 2002 - After deciding to install the new RedHat 7.3, the power went out half way through the install. I finally got all of the install done once BGE got their act together.
May 22, 2002 - I installed a new Webmail program, SquirrelMail. It looks a lot better than the old program, NOCC.
May 30, 2002 - Taking a cue from BCPL.NET, I made some modifications to SkilmNET's mail server so that e-mails sent from known open-relays are blocked. Open-relays are misconfigured e-mail servers that are used by spammers to hide their tracks. (SkilmNET has never functioned as an open-relay - by the way) All the e-mails sent to SkilmNET are now checked against the ORDB database of open-relays.
June 4, 2002 - In an effort to make looking through SkilmNET easier (and also just for practice) I set up ht://Dig today. It's a well-known open source search engine that should be fun to play with. I also updated BIND to version 9.2.1 to fix a security vulnerability.
June 5, 2002 - Updated sshd (OpenSSH) to version 3.2.3 to stay on top of any security issues.
June 9, 2002 - I got a new CD-RW drive for in the family computer, so I took the old one and put it in tux today. This should allow me to do backups to CD instead of over a network connection to sparky.
June 22, 2002 - Updated Apache (http webserver) to patch a security vulnerability. Also updated OpenSSH for security reasons.
July 24, 2002 - After struggling with all types of server problems, I finally got BIND to work for internal requests again. Ever since I installed Red Hat 7.3 it seems to have been on the fritz.
August 4, 2002 - The latest power-outage shutdown SkilmNET briefly. At the time of the outage, tux had an uptime of a little over 42 days, making it SkilmNET's new uptime record holder. vesta had that honor previously.
Oct. 5, 2002 - Upgraded tux to RedHat 8.0 (Kernel 2.4.18-14). This update includes a brand new Apache (2.0) and Sendmail (8.12)
Nov. 4, 2002 - Installed MySQL server so that I can play around with Database-driven webpages on SkilmNET. Also installed a virus scanner on tux (clamscan) in the hopes that I will be able to automatically scan incoming e-mail for viruses at some point.
Dec. 18, 2002 - Installed updated version of MySQL (3.23.54a) and the pine e-mail client (4.51). Also got some security patches from RedHat.
Mar. 10, 2003 - Installed several security updates including a new Kernel (2.4.18-24.8.0) and a new sendmail (8.12.8). There is a new version of pine as well (4.53).
Mar. 13, 2003 - Apparently, AOL thinks I have nothing better to do than play with my sendmail config. It seems that a while ago they implemented a SPAM filtering policy that blocks open-relay mail servers - I don't blame them for that, I did the same thing. Where AOL went too far is they block whole ranges of IP addresses from sending them mail that they felt had no business being e-mail servers. My e-mail server happens to be one of those IP addresses. Who are they to judge? The bastards... Anyway, I spent a few minutes of my life today figuring that out and fixing it so that my aol.com-bound e-mail gets routed through an alternative server. On a much lighter note, I installed a new version of our pop3 server qpopper (4.0.5) and upgraded the Kernel (2.4.18-26.8.0) once again.
Mar. 15, 2003 - After a HDD in vesta died, I had to do some swapping. I ended up moving tux's /home partition onto a 12.6 GB HDD I had in another computer. That leaves space for some more useless crap... :-)
Mar. 18, 2003 - Upgraded Kernel (2.4.18-27.8.0) to address a security issue.
May 17, 2003 - Several security updates, including a new Kernel (2.4.20-13).
June 11, 2003 - More security updates and yet another new Kernel (2.4.20-18). Also got a new version of pine (4.56).
June 26, 2003 - Finally installed an updated webmail program. SquirrelMail 1.2.10 is now running. Also installed a new version of bash to address some bugs.
July 7, 2003 - New version of nmap port scanner/security tool (3.30) and Webmin (1.100) remote admin utility installed.
July 28, 2003 - Updated kernel to version 2.4.20-19 to address various security issues.
Aug. 3, 2003 - Applied several security updates. New versions of OpenSSH, WU-FTPD, and NFS Utilities were included.
Sept. 1, 2003 - Got everything working after installing RedHat 9.0 and a new /home disk. Ended up switching around what each HDD does, so it was a bit of work. Didn't get all the bugs worked out until tonight.
Sept. 6, 2003 - Installed a few security updates including sendmail, Apache, and a new Kernel.