Sparky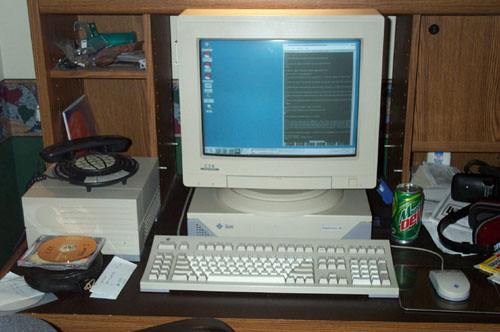 While tux was the workhorse of SkilmNET, I needed to have a few more UNIX toys around the house. Since the first UNIX I worked on in my career was Solaris 2.6 on SPARC hardware, I decided to find a SPARCstation on eBay. I scored BIG TIME. It gets NO BETTER than a quad-processor, 32-bit SPARC box. Here are the stats:
"Sparky" SPARCstation 20
CPUs
(4) Ross RT-625 hyperSPARCs at 100MHz each (99.94 bogomips each)
RAM
128 MB
Storage
(2) Internal SCSI HDDs (4.3GB and 2.1GB)
Network Connection
Built-in 10BASE-T (with a second, unused 10BASE-T port)
OS
Sun Solaris 2.6
Kernel
5.6 Generic_105181-39
Services
telnet (telnetd) - Remote Access/Control
ftpd (wu-ftpd) - FTP Fileserver
dns server (BIND) - Name resolution
Simple Network Management Protocol (ucd-snmpd)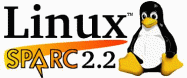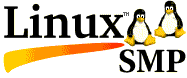 SPARCstation 20 Service Manual
SPARCstation 20 Manual - That's right, I had to tear this apart a few times. This little document came in handy.

Sparky's History
Nov. 15, 2001 - sparky arrived via FedEx and eBay. Brought sparky up running Solaris 8.
Nov. 18, 2001 - After becoming familiar with the hardware, and testing a few different configurations, finally decided on RedHat 6.2 for SPARC. (Kernel 2.2.14-5.0smp) NOTE - Maybe it is just that I'm not-so-experienced with Solaris installation, but I couldn't seem to get what I wanted installed. I ended up with a 2GB install each time, and some of the programs I requested to be installed were nowhere to be found. I also couldn't load the "Software Companion CD" - the one with all the GNU tools - due to a low memory error or something. Solaris took 4 hours to install, and ran slow, where Linux ran much better on the hardware, only took 1 hour to install, gave me all I requested, and only took up 700MB of disk. Ok, rant over.
Nov. 24, 2001 - Installed floppy drive for sparky. Played with getting SuSe Linux 7.1 (Kernel 2.4.0) to work, but hit a few bumps - I'll just wait to get the 9.1GB HDD before I try to install anything else.
Nov. 27, 2001 - Installed additional dual-processor module, bringing sparky up to a 4-processor, 100MHz each machine.
Dec. 7, 2001 - Finally installed my 9.1GB SCSI HDD in an external case (Sun model 911). It seems like I have a little breathing room now, as I can add 3 more disks pretty easily now. As a side note, I love the fact that there is yet another system fan making noise in my room now - that external case really adds some atmosphere :-)
Dec. 23, 2001 - I got really bored with the old kernel, and since I'm in a kernel-compiling mood from tux, I went ahead and compiled Kernel 2.2.20 for sparky. It works so far as I can tell, so that's what's running.
Dec. 25, 2001 - I finally have a network connection to sparky thanks to a Christmas gift. I got two Wireless Access Points which I used to bridge the network connection up to my room. Now that sparky has a network connection, I have to figure out what services to run on it.
Jan. 19, 2002 - I had inspiration yesterday (thanks to Tim) to use sparky for more than just a novelty shell box. I got a DNS server, BIND (named), running. It not only serves requests from SkilmNET, but also from the outside world...at least until traffic gets too high :-) Installed Apache 1.3.22, Sendmail 8.11.6, and Wu-FTPD 2.6.1. Various security updates.
Jan. 22, 2002 - Installed new Webmin (0.92).
Mar. 20, 2002 - Installed UCD-SNMP to allow for remote monitoring of traffic and other stats on sparky.
Apr. 5, 2002 - I got the bright idea to try and install Solaris again. I had hardware difficulties and after wrestling with the 3 hour installation, I got Solaris to work more than it did the last time I tried. The install still takes up a lot of space and puts very little useful programs on the computer. The GNU software additions didn't go on right again so I tried installing them from source only I couldn't find make. After hunting around, changing the PATH, and finding a decent text editor, I finally figured that it wasn't worth it. I pulled the system off and went back to Linux.
Apr. 7, 2002 - I figured that I needed more space on sparky so I ordered a few SCSI drives off of e-bay. One is a 4.3GB which I plan to use to replace the un-reliable 1GB drive currently in the machine. The other is a 9GB drive for the external case - it'll probably end up as a backup/file server.
Apr. 18, 2002 - Installed the new 4.3GB HDD. The 9GB I ordered was the wrong type. Reinstalled Redhat 6.2 to redistrubute everything evenly across the new drive structure. Obviously, I took care of security updates, and basically brought all the software that was on there "back to life." I reconfigured the DNS server so that it not only works properly as the Primary NS for the domain, but so that it can also resolve OpenNIC DNS names and TLDs. Currently there are no users on this system. If you would like a SPARC shell account to play with, let me know.
May 31, 2002 - I got my OpenNIC domain working. If you can resolve OpenNIC DNS TLDs, you can access SkilmNET at http://www.peteskillman.geek. This address works for all SkilmNET services, not just the website. You can learn how to set up OpenNIC here.
June 11, 2002 - After a DHCP mix-up, the IP address for my network connection changed, so I ended up having to re-do all my DNS. The problem is that the next day, the people who supplied my skilmnet.dhs.org domain decided that they were going to start charging for the service. I decided to buy my own domain. I clunked down my $35 at Register.com and bought skilmnet.net. Today, I re-did the DNS so that skilmnet.net, not skilmnet.dhs.org, covers my servers.
July 24, 2002 - After struggling with not understanding what I was doing and several Internet connection problems, I finally got external DNS to work properly and to be able to update new IPs and hostnames in a timely fashion (i.e. - less than 2 days).
July 30, 2002 - Installed and got working (finally) a newer Distribution of Linux. Suse 7.3 is now installed and configured for the most part. The offer goes out once again on shell accounts...
Sept. 19, 2002 - After some strange freezing, and subsequent re-installs, I found out that sparky is overheating - 4 processors crammed into a pizzabox will do that. Anyway, I ended up making a few hardware modifications to increase the airflow. Basically, I tore open and old power supply I had sitting around and spliced the fan into some new wiring. Pictures are here and here. I also ended up installing RedHat 6.2 as part of diagnosing what was wrong - also compiled a new kernel (2.2.22). I am currently looking for a new Linux distro for sparky. It'll end up being either Suse again, or Debian.
Sept. 22, 2002 - Installed Debian 3.0 on sparky with mixed results. It took longer than I expected. All the text-based things work, but X Windows refuses to start up. I've decided that when I get some time, I'm switching sparky back to Suse.
Oct. 18, 2002 - In preparation for installing Aurora Linux 0.4 (a Linux distro for SPARC based on RedHat 7.3) I took out one of sparky's dual-processor modules. sparky has been over-heating frequently lately and I'm not sure why, so for now sparky is down to 2 processors as a heat-reduction precaution.
Jan. 8, 2003 - Thanks to pomona coming home, sparky no longer had any real usefulness on the network. Sadly, he was disconnected and at least temporarily retired.
May 27, 2003 - Well, I've been looking for a project and I missed the whine of sparky's fans. I've setup sparky as a compute node for Seti@Home and as a machine to play with networking on. It'll also be cool to have a SPARC machine again :-) See a picture of sparky's new placement here. Yes, that is a VCR on top of him.
June 1, 2004 - Brought sparky back up after on-again/off-again tinkering over the last few months. I was finally able to find a version of Solaris that would install on him without too many complaints. sparky now runs Solaris 2.6 and is functioning as a playground right now. Due to the fact that its about 12 years old, it isn't a terrific number cruncher by today's standards. I doubt there will be a practical use for sparky on the network. Its been a LONG time since I ran a real, live UNIX though and it feels good.