Vesta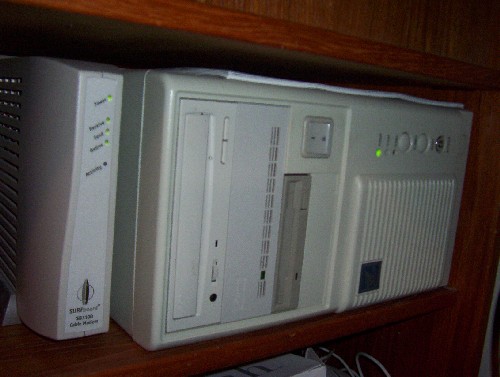 While tux was the most visible server on SkilmNET, there were other machines around the house that ran Linux. One of those was vesta, my old Pentium 90MHz desktop. I converted it over to Linux and it became the gateway router, external DNS server, DHCP server, and NTP server for the network. I loved how much Linux would let me squeeze from old hardware.
Vesta Gateway Router
CPU
Pentium 100MHz (199.88 bogomips)
RAM
40 MB
Storage
2 IDE HDDs (4.3 GB and 500 MB)
Internet Connection
3Com 905-C TX 10/100 PCI NIC
Network Connection
Linksys LNE100TX 10/100 PCI NIC
OS
Red Hat Linux 9.0
Kernel
2.4.20-20.9
Services
telnet (telnetd) - Remote Access/Control
dhcp server (dhcpd) - Dynamic Host Configuration
ntp server (ntpd) - Network Time Protocol
dns server (BIND) - Name resolution (external)
Simple Network Management Protocol (ucd-snmpd)
SkilmNET DHCP/Testing Server History
Jan. 29, 2002 - Brought vesta online running Red Hat 6.1 (Kernel 2.2.12-20). Installed/configured Webmin and dhcpd.
Feb. 2, 2002 - vesta's motherboard had been giving me trouble since Y2K. Apparently, it's BIOS was affected so it thinks it's 2095. While I was at a computer show, someone was selling old motherboards that would fit in vesta. Naturally, I bought one. The board came with a Pentium 100 and 32 MB RAM. I got it and installed it today.
Feb. 4, 2002 - In an effort to improve performance, I got a new kernel for vesta (2.2.20) and compiled it to specially fit vesta. It ended up REALLY working! My CPU speed rating went from 39.94 bogomips to 199.88 bogomips!
Feb. 15, 2002 - Set up ntpd. This allows me to coordinate the time on all my computers from a central location. I have yet to figure out all the little nooks of the program, so it isn't quite working yet.
Feb. 28, 2002 - I just happened to look at the NTP server on vesta today and realized that it is now in sync with the rest of the world! I finally have a working time server! I configured clients on all of the network computers to update their clocks to vesta.
Mar. 13, 2002 - We had an electrical storm tonight meaning vesta (and the rest of the network) briefly lost power. At the time, vesta was the holder of the all-time SkilmNET uptime record. She had remained functional for over 37 days without a reboot.
Mar. 20, 2002 - Installed UCD-SNMP on vesta to allow remote monitoring of traffic and other stats.
Mar. 28, 2002 - vesta's /usr hard disk (the 330MB one) died yesterday, leaving most of the programs on vesta inaccesible. I couldn't even telnet in to fix anything. I ended up swapping the bad drive for a 270MB one I had around, shoring up other hardware issues (floppy drive acting up a little, rearranged some LEDs, etc), I put in some more RAM I'd discovered I had also, bringing vesta up to 40MB there, and I reinstalled Linux, but a newer version (Redhat 6.2).
May 23, 2002 - I installed BIND 8.2.3 so that vesta can be yet another backup DNS server for the internal network computers.
May 30, 2002 - Patched a security vulnerability in vesta's DHCP server. I also ended up re-configuring the server so that the default lease is now 14 days instead of 24 hours.
Oct. 10, 2002 - Updated vesta's kernel to 2.2.22.
Oct. 22, 2002 - Installed the Seti@Home client on vesta so that it can use it's spare CPU cycles to aid in the search for ET.
Nov. 23, 2002 - Over the last few days, I've been converting the network over to a configuration that will allow vesta to be the gateway router instead of the old Linksys Etherfast router that was a little limited in what I could get it to do. Having a Linux-based router is not only more "l33t" but it will be much more flexible.
Feb. 16, 2003 - I recently aquired an old 2.1 GB HDD. I installed it into vesta today. I ended up re-installing and re-configuring vesta to take advantage of the increased hard drive space. When I shut her down, vesta was the all-time uptime record holder for SkilmNET with nearly 85 days since her last reboot!
Mar. 15, 2003 - After trying to do a kernel upgrade - i.e. something that needed a reboot of the computer - my larger 2.1 GB HDD that I just put in vesta refused to spin up. After messing with it a while, it was clear that the drive was dead. I ended up swapping a few drives around and adding a 4.3 GB in place of the dead drive. All my attempts at re-installing the OS were unsuccessful though, so it'll have to wait.
Mar. 22, 2003 - I finally got around to re-installing the OS on vesta. I settled on RedHat 7.2. I applied several updates and got her completely re-configured.
May 17, 2003 - Updated the Kernel to 2.4.20-13 to address a few security issues.
June 11, 2003 - New Kernel installed. vesta is now running 2.4.20-18 from RedHat.
July 7, 2003 - Installed new version of Webmin (1.100) remote admin utility.
July 28, 2003 - Updated kernel to version 2.4.20-19 to address various security issues.
Aug. 3, 2003 - Applied several security updates. New versions of OpenSSH, WU-FTPD, and NFS Utilities were included.
Sept. 6, 2003 - Cleaned off vesta completely and did a fresh install of RedHat 9. This gave me a chance to really work out organizing the firewall rules. Ran through the updates as is customary with a re-install.